Am Pàipear editor recommends community-owned media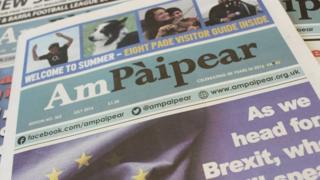 Communities with no dedicated local news service should consider launching their own newspaper, the editor of Hebrides paper Am Pàipear has said.
Am Pàipear was launched 40 years ago as a social enterprise in Benbecula in the Western Isles.
Since 1976, the monthly title has gone on to win several media awards.
Editor Iain Stephen Morrison said the newspaper was an example of what other communities "with an unmet appetite for local news" could achieve.
Am Pàipear is printed once a month but also has an online news service in between editions.
'Ideas and criticism'
Mr Morrison said: "Just two members of staff produce the paper, with printing the only element of production taking place off-island.
"We have a committee of volunteers who oversee the running of the business, but all profits are reinvested in the product, so our readers get the best possible value for money."
He added: "Am Pàipear was created by the community, which still retains a very strong sense of ownership, and this is a huge part of our success.
"Our readers are very comfortable walking into the office to offer ideas and criticism."