Brain family give evidence to MPs in session on Skye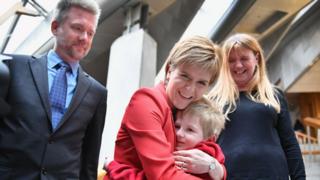 A family at risk of being deported from the UK have given evidence to Westminster's Scottish Affairs Committee during its visit to Skye.
Australians Kathryn Brain, her husband Gregg and son Lachlan moved to the Scottish Highlands in 2011 on a student visa, but the rules later changed.
They were invited to tell MPs of their experiences of immigration.
The committee has held a session at Sabhal Mòr Ostaig, the national centre for Gaelic language in Sleat in Skye.
The MPs also took evidence on the challenges faced by rural communities and population trends in the Highlands and Islands.
Skye has been successful increasing its populations, but other areas, such as the Western Isles, have experienced depopulation.
'Hard statistics'
Following representations by SNP MP Ian Blackford, the Brains were told in May that they could stay in the UK until August, but have not been allowed to work.
Scotland's first minister Nicola Sturgeon has met the family and pledged to do everything in her power to help.
Mr and Mrs Brain told MPs of their experiences of moving to Scotland to live, study and work and of their efforts to remain in the UK.
After giving evidence, they told BBC Alba that they still faced a deadline of 1 August but hoped the UK government would deal with their situation in "good faith".
---
Brains' visa timeline
The family moved to the Highlands in 2011 on Mrs Brain's student visa and she intended to later move on to a post-study work visa
However, the Home Office cancelled this visa scheme, which had been set up with an aim to attract professionals to the UK
Mr Brain has been working and had an offer of a new job, but that fell through after a change in his prospective employers' circumstances
The new job would have fitted with the Home Office points-based visa system
In May this year, Immigration Minister James Brokenshire said he "exceptionally extended" the family's "grace period" to remain in the UK on 12 April and then again on the 28 April. This latest grace period is until the end of May
Mr Brokenshire said his office had still to receive an application from the family for what is known as leave to remain in the UK under the points-based system. The minister added that the family were not at "imminent risk" of deportation
Later in May, the Brains were told they could stay until August, but were told they would not be allowed to work
---
Ahead of the Scottish Affairs Committee's visit to Skye chairman Pete Wishart said: "I am delighted to be coming to Skye, to meet the people who live here and understand the challenges they face.
"It is pleasing that the last few decades have seen steady population growth on the island.
"However, it is important that we keep investigating policies that enable inhabitants to live fulfilled lives and attract others to move here."
He added: "I am especially pleased to be hearing from Gregg and Kathryn Brain.
"During an inquiry such as this it is easy to focus on cold, hard statistics. However, it is equally valuable to hear about the real experiences of those involved in the immigration system, to understand what attracted them to Scotland and hear the challenges they are facing in staying here."