Concerns over future of Fort George's Army role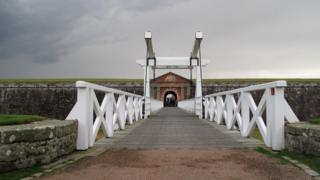 UK and Scottish government ministers are to meet to discuss future Army use of a 250-year-old former artillery fort in the Highlands.
Scotland's secretary for economy, jobs and fair work, Keith Brown, has raised concerns that Fort George will stop being used as a working barracks.
He is to meet with UK minister Mark Lancaster.
Soldiers of the Black Watch (3 SCOTS) are currently based at the fort at Ardersier, near Inverness.
Large parts of the historic site are open to the public as a visitor attraction and some of its buildings house a museum recalling the exploits of Scottish regiments past and present.
Last regiment
Mr Brown has written to Defence Secretary Michael Fallon ahead of his meeting with Mr Lancaster, parliamentary under secretary for defence.
In the letter, Mr Brown said there were concerns defence reforms would bring to an end the Army's use of Fort George.
He said this change would have implications for Historic Environment Scotland, which has responsibility for the fort, and could raise concerns about the future of the Black Watch.
Historic Environment Scotland said visits to Fort George were unaffected.
A spokesperson said: "We have been made aware of the options the army are exploring in relation to Fort George and expect to have discussions with the Army and the Scottish government soon.
"The site, which attracts over 55,000 visitors annually, remains fully open to visitors."
The role of Fort George has been examined in previous rounds of defence cuts, including in 2011.
There was speculation then that the Black Watch could be the last regiment to be based at the 18th Century artillery fortification.
Fort George was built on the southern shores of the Inner Moray Firth on the orders of King George II following the Battle of Culloden in 1746.
It was a symbol of the Crown and was given the resources to crackdown on fresh Jacobite rebellions, or risings.
The fort had capacity for a garrison of 1,600 infantrymen with access to numerous cannons, muskets, pikes and swords.
The magazine could hold 2,500 gunpowder barrels and there were also provision stores and a brew house.
Sheep riots
But the huge building project - costing £1bn to complete in today's money - brought financial benefits to some of those living in the very communities it was built to suppress.
Tradesmen, merchants and shopkeepers supplied the fort during its construction and then the troops following its completion in 1769.
While not used in anger against a Jacobite rising, Fort George did play a part in dealing with unrest during the Highland Clearances.
In the summer of 1792, the Ross-shire Sheep Riots flared up as families evicted from lands in Ross-shire and Sutherland to make way for large-scale sheep production took action against the new farmers, shepherds and their landlords.
By early August, a band of protesters had rounded up 6,000 sheep and driven them south to Beauly, near Inverness.
Soldiers of the 42nd Regiment, better known as the Black Watch, were sent from Fort George to arrest the sheep drivers.
Two of those arrested were later banished from Scotland for the rest of their lives.
Fort George would go on to provide a base for armed forces personnel training for D-Day during World War Two.
Today, the fort remains a working barracks.
It also houses the museum collections of the Seaforth Highlanders, Queen's Own Cameron Highlanders and The Queen's Own Cameron Highlanders.
In 2011, actor Hugh Grant launched a public appeal to help raise £3m to redevelop the museum.
Grant's grandfather, Col James Murray Grant, from Inverness, was a Seaforth Highland and depot commander at the fort during World War II.
The actor's father, Capt James Murray Grant, also served with a Highlands regiment.