Highlands visit prepares US group for Edinburgh Fringe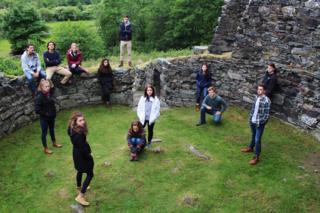 A visit to the Highlands to learn about Scottish history and Gaelic will help to inform a US theatre group's performances at the Edinburgh Fringe.
The group of 18 from Pepperdine University, in Malibu, in California, are visiting Glenelg and Skye.
Their play, The Interference, was written by Scottish-based Lynda Radley and challenges attitudes to rape.
The American students have been learning about the roles of powerful women in Scotland's history.
They have also been given insights into Scottish folklore.
True events
In Glenelg, the group visited the ruins of 2,000-year-old stone tower houses known as brochs and met with Scottish playwright Eddie Stiven.
They also used their stay in the community, which sits on the mainland opposite the Isle of Skye, to rehearse the play, which is set in a US university but based on true events in America and the UK.
When the students go to Skye they will visit Sabhal Mòr Ostaig, the national centre for Gaelic language and culture.
There they will receive a masterclass from Gaelic playwright and actor Catriona Lexy Campbell.
Student Sarah Barney said: "What keeps hitting me is that everything in Scotland has history and weight - because of that everything has meaning.
"It all adds to the legacy that makes this country so special."