Water warning for South Uist after low rainfall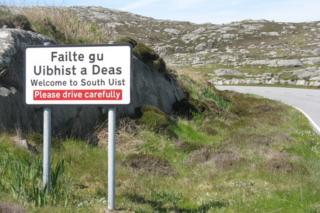 Residents of South Uist have been asked to use water "wisely" as supplies have been affected by low levels of rainfall.
The island has had 72mm since April, the same amount as fell in June alone last year.
Scottish Water has asked islanders not to use hosepipes for watering gardens and washing cars.
The utility company said it will install a temporary pipe to take water from Uist to neighbouring Benbecula.
Scottish Water said it was advising customers to "use their water wisely".
Peter Farrer, Scottish Water's chief operating officer, said: "We are encouraging everyone living and working locally to take simple steps to use water wisely.
"Toilet flushing uses around 30% of water in the typical home. While people should use their toilet as normal, installing a Save-a-Flush bag provided by Scottish Water can save around one litre of water every time a toilet is used.
"People can also help by turning off the tap when brushing teeth and doing a full load of washing instead of a half load."