Fishermen warn of lost income from expanded Raasay Ranges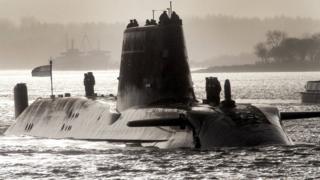 Expanding a test area for submarines would lead to hundreds of thousands pounds in lost income for the prawn fishing industry, fishermen have said.
The Ministry of Defence (MoD) has been examining the potential of enlarging the Raasay Ranges off Scotland's west Highland coast.
It would involve banning fishing in a wider area than at present.
The MoD said a study had concluded that the impact on fishing would be "limited".
It said the ranges were an "important" economic driver and said the wage bill for all staff involved in running the site amounted to £2.5m, while about £750,000-a-year was spent on local services such as hotels.
'Final straw'
But fishermen who catch langoustine prawns in the area marked out for the planned expansion have warned that some will quit the industry because of lost earnings.
They told the economic impact study commissioned by the MoD that the total annual cost to their industry could be up to £600,000. The report concluded the figure was likely to be closer to £480,000.
Ali MacLeod, who fishes out of Applecross near the ranges, told BBC Alba he expected that an expanded area would lead to a drop of up to 20% in his gross landings of langoustines.
He said: "There are just not enough langoustine prawns in the area left over for us to fish.
"It is 25 sq km they are closing off, which would be added to the original 25.
"For some of the older fishermen it might be the final straw. It could cost maybe up to half a dozen boats."
'Economic benefits'
The MoD said: "The MoD economic impact assessment concluded that the impact on local fishing vessels will be limited.
"In addition, the MoD and industry are working very closely with the local fishing community to identify further mitigation measures.
"The proposed changes must be implemented to sustain jobs in the medium term and it is important to remember that the Raasay Ranges also bring considerable economic benefits to Scotland."
The ranges in the Inner Sound between the Isle of Raasay and Applecross on the mainland form part of the British Underwater Test and Evaluation Centre (Butec).
Butec provides a sonar and weapon system test area for the Royal Navy crews of Vanguard-class nuclear weapon submarines and Astute and Trafalgar-class attack submarines.
Fishing is prohibited in the area and fishing boats and other vessels can only remain in the Butec test area for as long as it is necessary for them to pass through the Inner Sound.
The submarine ranges are run from a site near Kyle of Lochalsh.