Judo star Stephanie Inglis thanks supporters and 'can't wait to get home'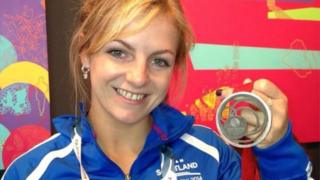 Scots judo star Stephanie Inglis has thanked her supporters and said she hopes to be "up and about" soon.
The 27-year-old Commonwealth Games silver medallist was badly injured in a motorbike taxi accident in Vietnam.
Earlier this week she was flown back to Scotland and is in hospital in Edinburgh.
In a Facebook message posted by a friend, Stephanie also said "can't wait to get home and have a Nando's".
On Thursday, her parents said she had opened and her eyes and said "Hi".
In a further update, on the SaveSteph facebook page, a friend said the judo star had made "outstanding progress" and was eating and drinking small amounts by herself and fully able to communicate.
"Hopefully next week she will be moved to a rehab centre and continue her progress," the statement said.
In her message dictated to her friend, Stephanie said: "Tell everyone thank you for all their support and well wishes, I am going to be up and about before you know it and come and see everyone and can't wait to get home and have a Nando's.
"Thanks everyone for the cards flowers and trinkets that you have sent."
The 27-year-old, who grew up in the Highlands but has been living in Dunfermline, was flown back to Scotland from Thailand after being treated in a Bangkok hospital for a serious head injury and also infections, including pneumonia.
Doctors in Vietnam had given her a 1% chance of surviving her injuries.
Her parents, who live in Daviot, near Inverness, flew to south-east Asia to be with their daughter.
Stephanie, who won her Commonwealth Games medal at Glasgow 2014, had been in Vietnam for about four months, teaching underprivileged children, when the motorcycle accident happened last month.
Her skirt is believed to have become unravelled and caught in the wheel.
Friends and family set up a crowdfunding campaign to pay for her medical costs after it emerged her travel insurance was not valid because she had been in the country more than 31 days.