New Commando Games to be held in Lochaber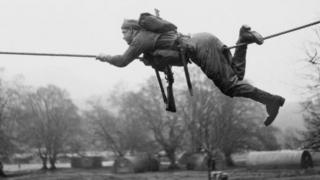 The inaugural Commando Games are to be held later this year near Spean Bridge and Achnacarry, where commandos were trained during World War Two.
Veterans' charity Commando Spirit said the event would be based on challenges set for Royal Marines, but would be family friendly.
It described the games' setting in Lochaber as "Commando country".
The challenges will include an endurance course, featuring mud runs, tunnels and crawls.
The course will be built to the design of an original commando endurance course used for training Allied troops and resistance fighters during WW2.
Entries have been sought for the new games.
Commando Spirit, whose ambassador is former Royal Marine and Invictus Games competitor JJ Chalmers, raises money to support Royal Marines and their families.
The charity has held previous endurance events, including 30-mile runs based on the Royal Marines' gruelling "yomps".
The Commando Games will be held on 10 and 11 September and the organisers said it would building on the success of the charity's annual Survive The Yomp challenge.
The construction of the endurance course will be done to celebrate Scotland's Year of Innovation, Architecture and Design.
Lochaber provided a large training area for commandos from Britain and the US as well as France, the Netherlands, Norway, Czechoslovakia, Poland and Belgium from 1942 to 1945.
The fighters were based at historic Achnacarry Castle, but would frequently practice in the surrounding hills and forests.
Woodland at nearby Loch Arkaig Pine Forest still has tree trunks scorched by a fire started by some of the training.
A memorial recalling Lochaber's war-time role stands near Spean Bridge.