Council may run own bus to Ullapool for Lewis ferries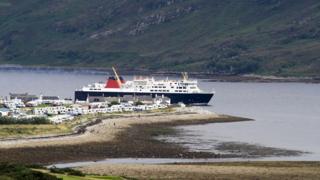 Western Isles Council - Comhairle nan Eilean Siar - is considering running its own bus service between Inverness and Ullapool.
The local authority said it has received complaints about public transport links to Ullapool for onward journey by ferry to Stornoway, Lewis.
It said the grievances were mostly about difficulties getting seats on busy buses and then missing the ferry.
It has begun looking at the possibility of putting on its own service.
Council convener Norman MacDonald said many of those affected were tourists who travel to Inverness to make the journey north west to Ullapool, and then to Stornoway.
He said: "Having travelled a long distance to Inverness they are then stranded there or pay up to £100 for a taxi to Ullapool."