Mountain Bike World Cup riders take on Nevis Range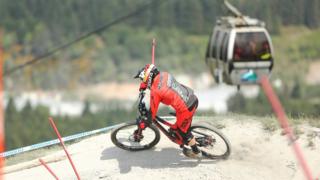 About 200 riders have hit the hill for this year's Fort William Mountain Bike World Cup stage.
Competitors at the weekend event in the Scottish Highlands include world champions Rachel Atherton and Loic Bruni.
The competition forms the third stage of the UCI World Cup Downhill championships and was first held 14 years ago.
Riders take on a course at Nevis Range in front of thousands of spectators.