Northern powerhouse: Caithness firms switching to renewables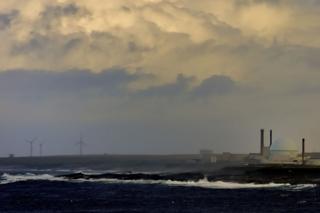 Firms in Caithness are making a transition from a reliance on work from Dounreay to new opportunities in renewable energy, say business leaders.
Dounreay, an experimental nuclear power complex built in the 1950s, is in the process of being shutdown and the site cleaned up.
However, companies set up because of the site such as JGC have been finding work on the MeyGen tidal energy scheme.
The Beatrice Offshore Windfarm off Wick is also expected to create new jobs.
Thurso engineering firm JGC works on contracts related to Dounreay, but has also been constructing large ballast blocks for tidal turbines for the MeyGen project.
The tidal energy scheme in the Inner Sound of the Pentland Firth, an area of the sea that separates the Scottish mainland and Orkney, will initially involve four turbines. Cables to bring ashore the electricity generated by the devices have already been laid.
Atlantis Resources, the developer, hopes to later expand the project to up to 269 turbines.
'Different techniques'
JGC has been working on making 24 ballast blocks, each weighing 206 tonnes.
The firm's Steven Sutherland told BBC Scotland: "The skills transitions are relatively simple going into the renewable sector.
"The items are a lot larger, so we have different techniques to learn, but we are managing that transition well."
Adam Bremner, an employee at the firm, said the renewable sector was offering local people the chance to stay in the area where they were brought up.
He said: "There has been a shortage of work around here for a while, so this is all good. If the work is here then you are going to stay here."
'Fantastic news'
Trudy Morris, of Caithness Chamber of Commerce, said the construction of the £2.6bn Beatrice Offshore Windfarm Ltd (Bowl) project should bring further opportunities.
More than 80 turbines could be installed in the Outer Moray Firth with construction work expected to start next year.
The harbour at Wick, once a busy fishing port, will be used for the shipping in and out of equipment, turbines and construction workers.
Ms Morris said: "It is going to be operational in 2019, but there is going to be a lot of work prior to that which businesses will be able to get involved in.
"There will be a need to upgrade the port and a need for technicians."
Willie Watt, chairman of Wick Harbour Authority, said such an opportunity as the offshore wind farm had been hoped for for years.
He said: "It is fantastic news for Wick. We have been working for the last 10 years to try and regenerate the harbour and secure a new future following the demise of fishing.
"This is going to give us stability, a future, opportunities and most importantly it is a new industry coming to town for the youngsters to come on to."