Speed cameras reducing accidents on A9, says group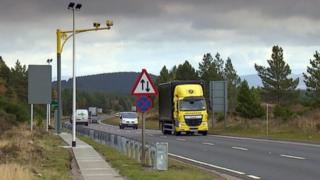 A network of average speed cameras on the A9 has continued to have a positive effect on the road's safety record, according to the A9 Safety Group.
Its latest figures show that between October 2014, when the cameras were introduced, and January 2016 the number of fatalities fell by 30%.
The data also suggests the number of people seriously injured declined by more than 70%.
The network runs from near Inverness to Dunblane.
The group, whose partners include Police Scotland, Transport Scotland, Highland Council and Road Safety Scotland, said average speed cameras had made the A9 safer.
In a report accompanying the latest figures, it has been pointed out that fewer occasions of severe winter weather may have helped to reduce the number of accidents.