'Cat pee' carnivorous plants added to Inverewe Garden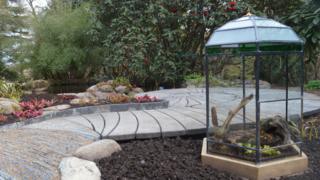 Plants that "smell like male cat pee" have been added to the National Trust for Scotland's Inverewe Garden in the north west Highlands.
The yellow trumpet plants, whose petals give off the pungent stink, are among new carnivorous species in the new Savage Garden display at the site.
The other species include Venus flytrap and the cobra plant.
The Savage Garden has been opened as part of £1.5m development project at Inverewe near Poolewe.
Inverewe Garden was created on a barren area of the Wester Ross coast in the 1860s.
Plants and trees at Inverewe benefit from the North Atlantic Drift, a warm ocean current.
The garden's collection also includes Chinese rhododendrons, Himalayan blue poppies, Mediterranean rock roses and a Jurassic tree called Wollemi pine.