Cameraman's long, cold wait for blue hares in Cairngorms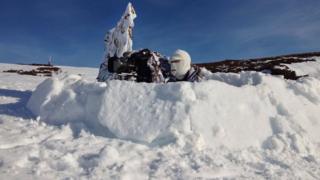 A behind-the-scenes image from a BBC wildlife documentary series shows the lengths a cameraman went to in a bid to film mountain hares in the Cairngorms.
Raymond Besant, who is from Orkney and now lives in Aberdeenshire, hid behind slabs of snow and ice while clad head-to-toe in camouflage thermal clothing.
The film-maker and photographer spent eight hours waiting and filming the animals, also known as blue hares.
The footage was shot for Highlands - Scotland's Wild Heart.
Besant said he was lucky temperatures dropped no lower than 0C.