RSPB supports wind farms where risk to birds low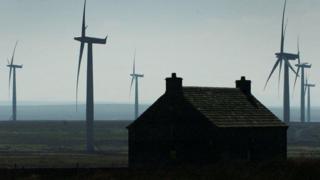 RSPB Scotland has said it "strongly supports" wind farms, but in locations where turbines do not pose a risk to birds.
In its new report, RSPB's 2050 Energy Vision, it said the renewable energy schemes could help Scotland to achieve climate targets.
However, it said they should not be constructed in areas rich in birdlife and other wildlife.
It said birds were at risk of collisions with turbine blades.
The conservation charity said it would also support "well-sited" solar, bioenergy, offshore wind, wave and tidal energy projects.
Stuart Housden, director of RSPB Scotland, said: "Our research shows that a low carbon energy future in harmony with nature is possible and we have set out a positive vision for how this can be done without harming Scotland's special places for wildlife.
"It's critical that we work together now to make this happen.
"Climate change is one of the single biggest threats to people and nature alike, but with Scotland's nature in decline, we have a responsibility to invest in an energy system that works for both people and our natural heritage."
'Increasingly important'
Scottish Renewables, an organisation promoting the growth in renewable energy projects, described the RSPB report as "positive".
Lindsay Roberts, senior policy manager at Scottish Renewables, said: "Climate change is one of the biggest threats to nature, and renewable energy is absolutely key to tackling it.
"This study shows clearly that meeting our renewable energy targets and protecting our natural environment can go hand-in-hand.
"The charity's work also demonstrates how more mature technologies such as onshore wind and solar can play an increasingly important role in our energy mix alongside newer, innovative technologies such as wave energy and storage."