Hawks tackle Dounreay's problem with nesting gulls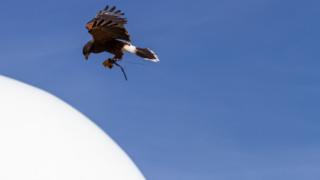 Birds of prey are being used to stop gulls nesting at the Dounreay nuclear power complex in Caithness.
The site near Thurso has had problems in previous years with gulls swooping down aggressively on staff who inadvertently walk too close to nests.
A falconer from Norfolk is working with a zoologist on the gull-scaring project.
A Harris hawk and peregrine falcon are among the raptors being used to frighten off the birds.
Dounreay, an experimental nuclear power site, is in the process of being decommissioned.