Ullapool's The Seafood Shack has licence challenged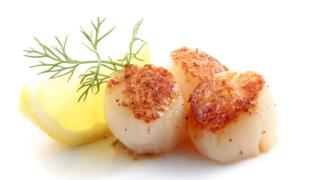 A seafood business in Ullapool faces losing its street trading licence just weeks after it was granted.
Highland Council has received a complaint that The Seafood Shack run by Kirsty Scobie and Fenella MacRae has breached a condition of the licence.
In posts on social media, the business partners say they have done nothing wrong and a petition backing their venture has more than 3,600 names.
Highland Council said environmental health officers were investigating.
The complaint alleges The Seafood Shack, which sells scallops, langoustines and mussels landed at Ullapool, has been set up within 150m of a business selling similar produce.
SNP MP Ian Blackford and MSP Maree Todd have offered to look into Ms Scobie and Ms MacRae's case.
A spokeswoman for Highland Council said if a breach of the condition was found to be occurring, the licence holders would be given the opportunity to remedy this by relocating their mobile unit.
She added: "If however this is not done, the matter is likely to be taken before the Highland licensing committee for their consideration."