Inverness arts group appointments follow resignation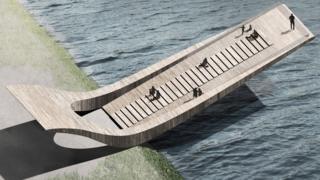 New appointments have been made to an arts group post vacated by a councillor in a row about a giant see-saw-like art installation proposed for Inverness.
Councillor Ken Gowans quit as chairman of Inverness City Arts Working Group saying he did not believe The Gathering Place to be a viable concept.
About 200 people have opposed it in a public consultation.
Councillors Thomas Prag and Helen Carmichael have been appointed to jointly hold the position.
The arts group continues to review the project, as well as other arts schemes, proposed for on or near the River Ness where it runs through Inverness.