'Granny's Gaelic' inspires Budapest Cafe Orchestra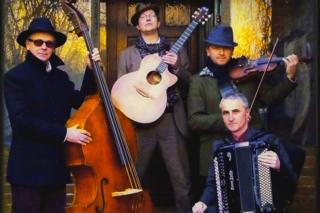 A Greater London band is performing Gaelic songs after the partner of one of its members sang him tunes her Highland grandmother taught her.
Harringay-based Budapest Cafe Orchestra play gypsy, folk and jazz, specialising in music from the Balkans and Hungary.
Violinist Chris Garrick's partner Emma MacLean is from the west Highlands.
After hearing her sing, the band released an album of Gaelic songs and plan to perform with renowned Gaelic singer Mary Anne Kennedy in June.
Budapest Cafe Orchestra describe the genre of their music as progressive gypsy-beat and play tunes from Greece, Hungary, Turkey and Russia. On an appearance on BBC Radio 3 last week they played the theme tune to radio drama, The Archers, in Hungarian style.
In the band with Garrick, are accordion player Eddie Hession, guitarist Adrian Zolotuhin and bass player Kelly Cantlon.
They tour the UK, performing at festivals and their own gigs.
'Whispering intimacy'
Though no strangers to Scotland, where they have frequently played gigs including at Lyth Arts Centre near Wick and on Eigg in the Small Isles, it was Ms MacLean's singing that inspired them to add Gaelic to their music.
Garrick, a professor of jazz and non-classical violin at music conservatoires in London, said the band was impressed by the "whispering intimacy" of the songs when sung solo.
He said: "We recorded the album Gaelic Chronicles and perform the music from it at our shows.
"After the shows, when we are selling our merchandise, it is those songs that seem to be among the most popular with the audience."
Budapest Cafe Orchestra plan to perform with Kennedy in Tobermory on Mull this summer, and have also approached Glasgow's Celtic Connections music festival about performing at a future event.
The design of the album cover for Gaelic Chronicles also has a connection to the Highlands.
The words "Gaelic" and "Chronicles" are written using Teeline shorthand.
Garrick said: "Whilst on tour in Jersey in the Channel Islands we were interviewed and reviewed by a young lady from Inverness called Heather Chalmers.
"She was using shorthand, something I hadn't seen in use since my Mum used Pitman working as a secretary in 1980, so in a fit of inspiration I asked Heather to please write 'The Gaelic Chronicles' for me in shorthand.
"I think it adds to the myth and mystery of the whole thing. They could almost be ancient runes scratched on the walls of Fingal's Cave."
As well as Mull, the band will come close to Ms MacLean's Highlands home when they perform in places such as Strathpeffer, Achiltibuie and Portree on Skye.
Ms MacLean was introduced to Gaelic song at primary school and regularly attended Gaelic music events, called a Fèis, with her sister, Nicola. She also competed at the Gaelic's premier festival, the Royal National Mod.
'Ancient tape recorder'
But she said: "It was really my grandmother, Anne MacLean, who made Gaelic song come alive for me. She had spent her career as a teacher of Gaelic and coached many choirs to perform in the Mod.
"We worked very well together and it was obviously very natural and easy to spend time learning Gaelic with my Granny.
"I would pick a song I liked the sound of and we would write it down and then run through it phonetically. And then we went through drills of it, rinsed and repeat over a period of 15 years. I became her student at her kitchen table with plentiful cups of very strong tea.
"Then, after she was satisfied that I could practice on my own, she would go to her kitchen drawer and pull out the most ancient relic of a tape recorder, hit the buttons and record herself speaking the song. I was then given this taped recording to take home with me to practice."
Ms MacLean added: "The Budapest Cafe Orchestra have an eclectic mix of music from all over the world and I decided to sing a tune or two to Chris to see what he thought of Gaelic music.
"The Gaelic Chronicles adventure began and the rest is down to Chris and the band."