Views sought on Creag Meagaidh management plan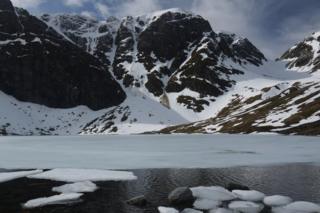 A six-week consultation on a new 10-year management plan for Creag Meagaidh National Nature Reserve has begun.
The reserve near Fort William includes the massive Creag Meagaidh plateau, which rises to 1,128m (3,700ft).
It is managed by Scottish Natural Heritage (SNH), which is holding the consultation.
The site includes rare plants and lichens as well as what SNH has described as specialised upland species including birds such as dotterel.
Creag Meagaidh is also popular with walkers and climbers and is one of six areas Sportscotland Avalanche Information Service assesses for avalanche hazard in winter and spring.
The mountain is often referred to by its nickname, Creag Meggie, including by hillwalkers and avalanche service forecasters.
The management is renewed every 10 years.
Chris Donald, SNH's south Highland operations manager, said: "We are keen to hear peoples' views on the future management of the Creag Meagaidh reserve, which is a special place.
"We are committed to ensuring that the special qualities of the reserve continue to thrive, and that the reserve continues to be a source of inspiration as a place for people and nature."