Hollyoaks stars back Scots designer's cancer campaign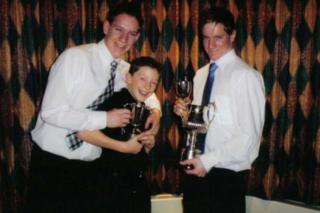 Cast members of a Channel 4 soap are backing a Scots designer's campaign dedicated to the memory of his cousin, who died of cancer at the age of 22.
Christian MacLeod's cousin Neil Howitt, from Nairn, died at Raigmore Hospital in Inverness in 2011.
MacLeod, from Inverness, has launched the Blue CM Campaign tor raise money for the Teenage Cancer Trust.
The cast of Hollyoaks offer their support include James Sutton who plays the show's character John Paul.
They are posting selfies on social media with their tongues dyed blue.
The campaign involves 10% of sales of one of MacLeod's designs going to the cancer charity.
The designer said: "You don't expect to lose someone close to you to cancer so young - it was a very sad time for my family and it made me determined to make a difference.
"Neil wasn't treated on a Teenage Cancer Trust unit, but I have been learning a lot about the work the charity does and their expert care and support would have made a big difference.
"I want to help the charity and raise awareness so that they can help every young person like my cousin."
Teenage Cancer Trust provides support to young people aged 13 to 24 diagnosed with cancer.