Isle of Lewis care service rated 'excellent'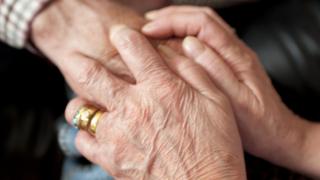 A care-at-home service on the Isle of Lewis has been given the highest grade available to a watchdog for the sixth inspection in a row.
Care Inspectorate inspectors rated the quality of care and support provided by the Crossroads Lewis Care Attendant Scheme as "excellent".
The service provides 24-hour care across the island, offering support to about 64 people at a time.
The Care Inspectorate described the service as "invaluable".
Stornoway-based Crossroads Lewis Care Attendant Scheme offers services to adults and children.
'Emotional support'
A spokesperson for the Care Inspectorate said: "This service demonstrated that what they provided was centred on the needs of the person being supported, and their family carer.
"It also provides support for people living alone. As well as providing practical assistance, this supports individuals who may be vulnerable, or who have additional needs, by providing companionship, social or emotional support.
"We have laid out in our inspection report areas where this service can further build on the outstanding work being done and will continue to support them to do this.
"Whenever the Care Inspectorate encounters good practice it is important we highlight this so that care across Scotland continues to improve."