Funding for Scottish-backed rare cat conservation effort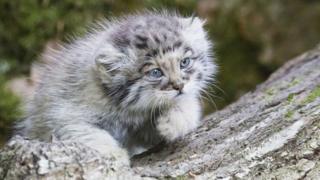 A project aimed at improving the conservation status of one of the world's rarest and least known wild cats has secured key funding.
The Royal Zoological Society of Scotland (RZSS) is working with the Snow Leopard Trust and Sweden's Nordens Ark Zoo on the Pallas's cat initiative.
Pallas's cats are found in decreasing numbers in Iran, Mongolia and China.
The groups had thought the chances of securing £100,000 funding were slight because the animals are not well-known.
However, the Segre Foundation, which supports nature projects, has awarded the grant.
RZSS' David Barclay, who is involved in the Pallas's cat conservation effort, confirmed there had been concerns the cats did not have a high enough profile to attract major funding.
The Scottish society manages Edinburgh Zoo and has Pallas's cats in its collection at its Highland Wildlife Park at Kincraig near Aviemore.
It signed an agreement with the other two organisations last year to commit to three years' work to better conserve, and raise the profile of, the animals.
Pallas's cats are also known as Manul, steppe and rock wildcat.
They are classed as "near-threatened", according to the International Union for Conservation of Nature and Natural Resources.
The break up of their habitats are one of the biggest threats to the species.