Aviemore pub flooded in December storm to reopen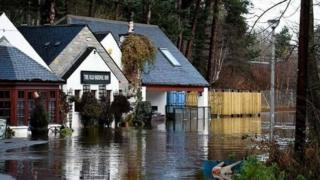 A Highland pub that was damaged by floodwater during December's Storm Desmond is to be reopened on Friday.
The Old Bridge Inn in Aviemore has required six months' of work to clean and repair it.
Owner Owen Caldwell said almost everything inside the pub was ruined and had to be replaced.
Heavy rain during Storm Desmond caused damage and disruption across the UK, with roads and bridges swept away and thousands of properties flooded.
Mr Caldwell said: "It was always our worst nightmare to be flooded.
"I suppose we rode our luck for six years without a flood, so it was almost inevitable at some point we would pay the price for the beautiful riverside setting we enjoy.
"What we couldn't ever have imagined is the scale of the damage. How it gets into - and destroys - everything."