Offer to buy site for Inverness justice centre withdrawn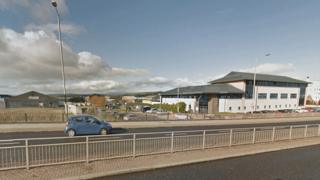 The Scottish Courts and Tribunals Service (SCTS) has withdrawn a conditional offer to buy a site for a new justice centre in Inverness.
SCTS had proposed having the hub constructed on vacant land at the city's Burnett Road.
Building a centre would allow SCTS to move out of Inverness Castle, which would then be available for plans to turn it into a tourist attraction.
SCTS said it remained committed to building a justice centre.
A spokesman said: "The SCTS' conditional offer to purchase a site at Burnett Road has been withdrawn as the conditions could not be met by the end of March closing date.
"While we are disappointed not to be in a position to conclude the purchase, we remain in discussion with the site vendor to identify possible solutions and will consider alternative sites in Inverness.
"We are committed to the delivery of a new justice centre in Inverness and the scoping work, centre design and engagement with partners continues while we seek to secure the right site."
In an announcement last month, SCTS, the Scottish government and Highland Council said plans for the justice centre and also transforming Inverness Castle were being pushed forward.
At the time it was hoped that work on constructing the centre on the site near Burnett Road Police Station would start this year.