Crew marks WW1's HMS Natal disaster in Cromarty Firth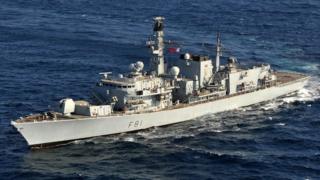 A Royal Navy crew has taken part in a ceremony to commemorate the sinking of a warship in the Cromarty Firth during World War One.
Sailors from HMS Sutherland laid a wreath in memory of the 421 who died aboard HMS Natal on 30 December 1915.
Natal capsized minutes after ammunition on board exploded.
HMS Sutherland, a Type 23 frigate, has been in the firth for events in Invergordon, including a ceremony marking WW1's Battle of Jutland.
Natal was part of a squadron of naval vessels at anchor in the firth, a key anchorage for the Royal Navy before, during and after WW1.
Its captain was hosting a film show for officers, their wives and a local family. About 400 of the crew survived because they were on shore leave.
A buoy now marks the spot where the ship sank.
There are 15 Natal graves in the cemetery of the village of Cromarty.
Communities along the Cromarty Firth came together in September last year to commemorate both the 110th anniversary of the Natal's launch at Barrow-in-Furness, and 100 years since it sank.