'Gas' incident Carrbridge Hotel served with notice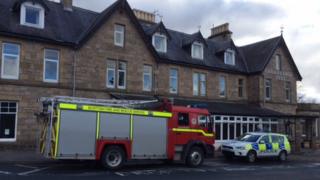 A hotel at the centre of a suspected carbon monoxide incident has been served with an enforcement notice.
Four guests of the Carrbridge Hotel, in Carrbridge, were taken to Raigmore Hospital in Inverness for treatment following the incident last week.
Highland Council said its notice required the hotel to suspend its use of a wood-fire boiler and also leave four bedrooms unoccupied.
The local authority said the hotel was fully co-operating.
The guests, two women and two men, were treated for the effects of carbon monoxide poisoning before being later released from hospital, the council said.