Scottish World War One stories sought for book of remembrance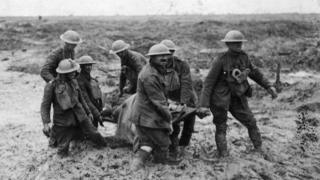 Families' stories about ancestors' experiences in World War One have been sought for a book brought to Scotland from Belgium.
The book of remembrance, Assembly, forms part of an exhibition from the In Flanders Field Museum at Ypres.
It contains more than 174,000 names of those from the UK and Ireland who lost their lives in Belgium in the war.
Scottish contributions of stories, messages and drawings will be added to it.
The book and exhibition will be at Inverness Museum and Art Gallery (IMAG) from 30 April to 5 May.
The exhibition features five chairs from St Audomarus Church in Passchendaele, where some of the worst casualties of the war in Belgium were seen. Each chair represents a year of WW1.
Assembly, the display and chairs will later be taken to other cities including Durham, Glasgow, Norwich and Dublin before being returned to Belgium in 2018.
A free lecture exploring military medicine and the contributions it has made to general health care will be held at IMAG on 4 May, to coincide with the exhibition.