New monitoring of leaning Glenfinnan Monument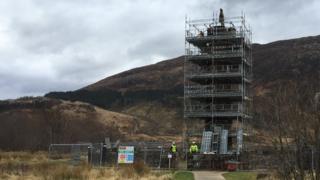 New equipment is to be installed to monitor the angle of a leaning 200-year-old monument dedicated to the 1745 Jacobite Rising.
The Glenfinnan Monument at Loch Shiel in the Highlands currently leans 260mm to the west.
The National Trust for Scotland (NTS), which looks after the structure, said the equipment would help to check for any further movement.
The kit is being put in place as part of a £170,000 revamp of the monument.
Elgin firm Masonry and Lime Ltd is leading the repairs to masonry on the monument and a boundary wall, and also the replacement of lime pointing and a renewal of the monument's roof.
A new hatch at the top of the monument and a new handrail to help visitors climb the landmark's 62 steps will also be installed, and the site's commemorative plaques will be cleaned.
NTS surveyor Glyn Young said the monitoring equipment would be installed as part of this project, which has received funds from Historic Environment Scotland, NTS's Canadian Foundation and other trust supporters.
The surveyor said: "We're installing a new system to help us monitor movement of the monument more accurately.
"Laser survey points are being put in place at the top and bottom of the 18-metre structure, and fixed ground survey points are being put in place too with the agreement of our neighbour.
"This will mean that we can be confident that the information about the position of the tower is completely consistent, which makes it easier to spot patterns, telling us, for example, if the movement is linked to the seasons or to the water table."
The Glenfinnan Monument marks the beginning of the 1745 Rising.
On 19 August 1745, Bonnie Prince Charlie arrived at Glenfinnan where he rallied Highland Clans, raised his standard and began a campaign that aimed to secure the Scottish throne for the exiled Stuarts. The campaign ended in defeat at Culloden.
The monument was built in 1815 by Alexander MacDonald of Glenaladale to honour his ancestors and the fallen Jacobites.