Skiing until start of May, say CairnGorm and Glencoe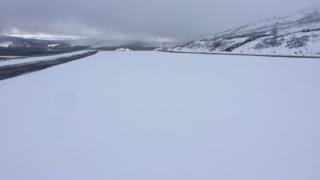 Two Scottish outdoor ski resorts have said they have enough snow to keep slopes open until the start of May.
CairnGorm Mountain has benefitted from fresh heavy snowfalls and temperatures that have fallen to as low as -4C.
The operators of the centre in the Cairngorms near Aviemore expect further snowfalls at the weekend.
Glencoe Mountain also continues to offer snowsports and staff there said forecasts suggest about 40cm of fresh snow to fall over the next 72 hours.
CairnGorm Mountain, which managed to offer midsummer skiing for the first time time in June six years ago, said it should be open until 2 May.
Conditions of the slopes will be assessed then to check whether snowsports can be continued for longer.
General manager Janette Jansson said: "We are absolutely delighted to continue offering great snowsports at CairnGorm at the moment.
"It was a particularly late start to the season this year, but we are certainly making up for it now with plenty of snow still on the slopes."
She added: "I think that this is the best time of the year to ski in Scotland, with better weather, softer snow and less congestion on the slopes."
In June 2010, more than 100 skiers took advantage of ski tows being open at the CairnGorm Mountain for the first time in midsummer.
Previously at that time of year people have been able to ski in the Cairngorms, however, they had to trek to where the snow was.