Bravery awards after Lochinver lifeboat rescue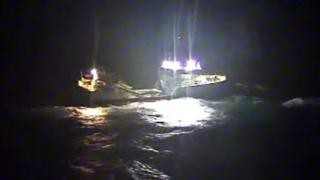 The crew of Lochinver lifeboat have been recognised for their bravery while helping to save the lives of four fishermen in stormy conditions.
Coxswain David MacAskill will be awarded the RNLI Bronze Medal for Gallantry - one of the charity's highest accolades.
His six crew members will receive a Thanks of the Institution award.
The men had to contend with gale force winds and 10-metre waves while rescuing the Norholm in December 2014.
The disabled fishing boat was in danger of being swept onto rocks at Cape Wrath in gale force winds, but the lifeboat crew were able to attach a line and tow it clear of danger.
However, the tow line broke twice during the rescue and had to be reattached as the weather continued to worsen.
The crew finally passed the tow onto the Thurso lifeboat. Lochinver lifeboat returned to its base 12 hours after they first launched.
Coxswain MacAskill, who has been on the Lochinver crew for 26 years, said: "This was the most difficult shout we have had due to the size of the boat, the weather conditions and where the boat was positioned.
"The ship had two anchors out but they were not holding her and there was real danger she could run aground."
The 47-year-old's six crew, including the coxswain's nephew and son, were Stuart Gudgeon, Robert Kinnaird, James MacAskill, John K Templeton, Joseph Mackay and Lachlan D MacAskill.