Highland roads 'need double spending'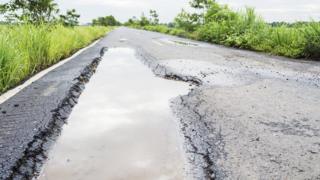 Roads in the Highland Council area are deteriorating faster than in any other predominantly-rural local authority in Scotland, according to a report.
The Scottish road maintenance condition survey for 2015 found that almost 40% of roads in the Highland region were in a poor condition.
Highland Council has about £7m a year to spend on road maintenance till 2025.
But officials warned that just to maintain things as they are would cost more than double that figure.
Survey teams examined almost half of the roads in the Highland Council area, including all the A roads.
They rated them green, amber or red - with red meaning the road was likely to need repairs to "preserve serviceability and to prolong its future".
Councillors on the community services committee heard that the surveyors declared 39.1% of Highland roads to be red, which is above the Scottish average and is an increase of almost 3% since 2014.
The statistics also showed that roads in Argyll and Bute were the worst in Scotland - with more than half in poor condition - but the network had improved since 2014.