Four people in hospital after suspected gas leak at Carrbridge Hotel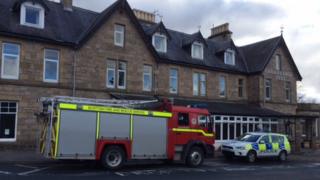 Two men and two women have been taken to hospital suffering from suspected carbon monoxide poisoning after a possible gas leak at a hotel.
A total of 90 guests were evacuated from rooms at the Carrbridge Hotel in the village of Carrbridge.
Emergency services were called shortly after 05:00. The Scottish Fire and Rescue Service said the incident was being treated as a possible gas leak.
The guests involved in the evacuation were later able to return to the hotel.
In a statement, Police Scotland said four people were taken to Raigmore Hospital in Inverness suffering from "the effects of exposure to suspected carbon monoxide".
The force added that a full investigation is underway into the circumstances of the incident.
The condition of the four people taken to hospital was described as being not life-threatening.
Staff praised
One of the guests, Margaret Bishop, told BBC Scotland: "We are just here for a few days and it was all lovely until 5:30 this morning when we heard the fire engine, ambulance and police."
Following the evacuation, she said she was told that there had been reports of "a smell".
Muriel Coomb, another guest, praised hotel staff for their actions.
She said: "The fire alarm woke us up.
"Everything was all under control and the hotel people have been wonderful."
The emergency services, representatives of Highland Council and heating engineers were still at the scene early on Friday afternoon.
The owners of the hotel have declined to comment on the incident.