Aviemore adventure film festival kicks off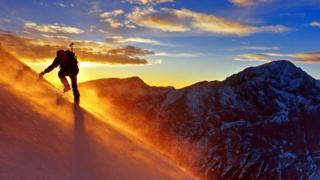 The first Aviemore Adventure Film Festival celebrating the outdoors is taking place this weekend.
Outdoor films will be screened along with guest speakers at Spey Valley Cinema from 19:30 on 22 April.
Several outdoor athletes and adventurers from the worlds of kayaking, mountaineering and mountain biking will give talks at the event.
The weekend kicks off with several short films showcasing backcountry skiing, trail running and climbing.
First up is Scottish film Transition which follows climber Natalie Berry at the beginning of her climbing career.
The 23-year-old, who is originally from Bearsden and now lives in Edinburgh, was recently named this year's Scottish Youth Ambassador for Mountain Culture.
This will be followed by a lecture from Lochaber-based professional climber Dave MacLeod, who helped Ms Berry to make the transition from indoor to outdoor climbing.
Backcountry Skiing adventure 55 Hours in Mexico, The Last Great Climb and Kayaking the Aleutians are among the other films being shown over the weekend.