Loch Garten's 'soap opera' osprey lays first egg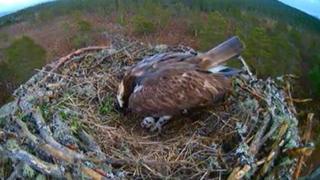 A female osprey whose previous breeding seasons have been described as being akin to a soap opera has laid her first egg of the 2016 season.
The migratory bird of prey has returned to RSPB Scotland's Loch Garten reserve, near Grantown on Spey, for its 14th season.
Nicknamed EJ, her previous drama-filled visits have included having her eggs kicked out of the nest by rival males.
Reserve staff have compared her seasons to a TV soap.