Teenage girls rescued from cliff near Balintore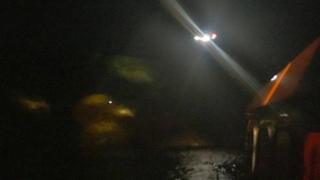 Two teenage girls had to be rescued by the RNLI and coastguard on Tuesday night after they became stranded on a cliff by a rising tide.
They were found about 50m (164ft) up the cliff face near Balintore in Easter Ross after one of them turned on a torch on her mobile phone.
Invergordon lifeboat and coastguard personnel directed a search and rescue helicopter to the girls.
They were winched to safety on board the helicopter and flown to Balintore.
The two friends were believed to have been on a walk to a place called The Well of Good Health, known locally as The Wellie.
Emergency services were alerted to the incident just before 21:00 and the rescue was wound up by 22:40.
A coastguard helicopter was involved in the rescue operation.