Caledonian MacBrayne launches "Eejits" campaign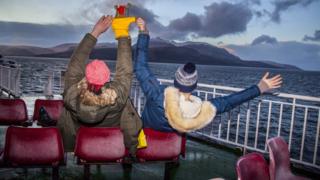 A ferry operator says it hopes to attract younger customers with a new "edgy" social media campaign dubbed "The Eejits".
Caledonian MacBrayne runs services on the Clyde and Hebrides Ferries Network.
In Scots, eejits means idiots, and the advertising campaign follows two young men lacking in common sense, according to CalMac.
The pair are guided through what the operator has to offer by a Harris Tweed-clad character.
Graeme MacFarlan, of CalMac, said it was hoped the tongue-in-cheek campaign would appeal to 18 to 35-year-olds.
He said: "Research has shown that our traditional campaigns work for audiences well-versed in who we are as a company and what we do.
"But they seem to mean less to younger audiences who are, after all, the new generation of customers across the network.
"We know that this campaign is not going to appeal to everyone, but the objective of the Eejits was to create an edgy online presence that was creative and would attract 18-35 year olds."
The Clyde and Hebrides Ferries Network includes routes linking the Highlands and Argyll to the Hebrides, including Coll, Tiree and Lewis, and also between the islands.