Death crash driver avoids jail term after South Uist crash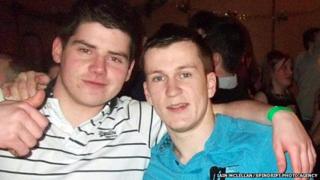 A 20-year-old who admitted causing the death of his lifelong friend by driving dangerously has avoided a jail term.
Alistair Downie lost control of his Peugeot, causing Carl MacPhee, 19, to be hurled from the car after the crash on South Uist in September 2014.
Judge Lady Scott said she would describe Downie's reaction as "feeling overwhelming guilt".
She said in "exceptional circumstances" she would sentence him to a community payback order of 300 hours unpaid work.
At the High Court in Paisley, she also ordered him to be supervised during the 12 months of the payback.
Downie will also be disqualified from driving for five years and must sit another test before obtaining a licence again.
The two young men had been at school together and both played football for Iochdar Saints, based in South Uist.
The driver had only passed his test three months before he took a number of his team-mates to the away match on the nearby island of Eriskay.
The crash occurred as he drove them back after the game.
Overwhelming guilt
Passing sentence the judge described Mr MacPhee as a "vibrant, popular and talented young man", who wanted to travel the world.
She told Downie: "You were close to his family, it is to their enormous credit they are generous enough not to blame you for the accident, to invite you to be a pallbearer at the deceased's funeral."
Lady Scott said she would describe Downie's reaction as "feeling overwhelming guilt" and that it was clear he accepted full responsibility.
She added: "I have decided in the exceptional circumstances presented here that a sentence of detention is not necessary".
The High Court in Glasgow was told two other passengers felt Downie was going too fast for the often bumpy road.
Prosecutor Allan Nicol added: "One later said how he 'had a gut feeling that something was going to happen'. He grabbed hold of the two front seats and pushed his feet into the floor to tense up."
Downie lost control at a bend in Daliburgh, initially hitting a curb before crashing through a wire fence.
The upturned vehicle then hurtled through a garden fence knocking down a tree, before rolling across a lawn seven times and coming to a halt close to a house.
Two passengers, including Mr MacPhee, had been thrown from the vehicle. Mr MacPhee was rushed to hospital but suffered a cardiac arrest and never recovered.
He was found to have died from a chest injury as a result of a road traffic collision.
A year before his death, the teenager received a man of the match award from Celtic legend Billy McNeill, who had travelled to Uist to mark a tournament named in his honour.