NHS Highland working on 'smartglasses'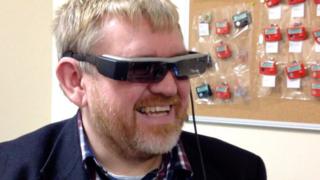 A Scottish health board has started working with a technology company to develop eyewear that could help medical professionals do their jobs.
NHS Highland and Inverness-based Summit Wearable Solutions hope to create "smart glasses".
They said the finished technology could project images onto the glasses' lenses, include a high resolution camera and respond to voice commands.
One the proposed uses is for visualising heart arteries.
Alan Whiteside, an innovation consultant with NHS Highland, said the development of digital eyewear may interest surgeons and accident and emergency staff.
He said: "It's early days yet but several clinicians have already indicated that they are very interested in the glasses and have suggested some possible applications.
"The plan is to turn these ideas into reality and take it from there. If things go as we hope, the smart glasses could help to put NHS Highland at the forefront internationally of a technology with vast potential."
Consultant cardiologist Prof Stephen Leslie said there could be potential for the glasses to connect medical staff with a patient in a remote location.
He said: "I think it is very refreshing to have a clinical dialogue right at the beginning of the development stage to see where the needs of the patients are."
The work at NHS Highland comes amid a drive towards greater use of digital eyewear and headsets.
Other device already available, or on the market, include Google Glass, Google Cardboard, Oculus Rift and Sony's VR headset.