Upgrade of critical care at Raigmore Hospital in Inverness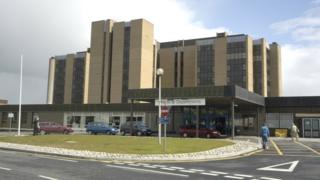 NHS Highland has said that it will invest £28m in critical care services at Raigmore Hospital in Inverness over the next three years.
The health board's spending plan has been approved by the Scottish government.
The hospital's acute medical assessment, intensive care and surgical high dependency units, theatres and admissions area will be upgraded.
The services will be provided in one new area over two floors.
Some of the critical care specialities provided at Raigmore are used by patients in Moray and the Western Isles as well as the Highlands.
'Privacy and dignity'
Operating theatres at the hospital will be refurbished and an additional theatre will be added to bring the total number of theatres in this area to 10.
Seven of the theatres will be equipped with specialist laminar air flow, which NHS Highland said would ensure the air within the theatre environment was at the cleanest possible standard.
Ron Coggins, clinical director for surgical and anaesthetics division at Raigmore, said: "This investment will not only greatly improve the facilities but also provides an opportunity to co-locate wards and ensure that first-class healthcare can be delivered in modern facilities for years to come.
"Having critical care services over the two floors will not only allow best use of space and staff but it will also improve patient flow in the hospital and the privacy and dignity of our patients."
The original critical care services building at Raigmore was constructed in 1980.