Loch Ness Monster hunting ad campaign launched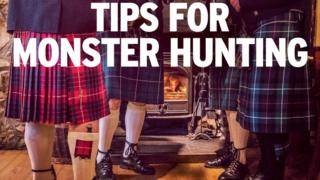 A tongue-in-cheek guide to hunting for the Loch Ness Monster has been created to promote Inverness and the Great Glen to visitors from Europe and the US.
VisitBritain's online advertising campaign has been targeted at the Netherlands, France and America.
Called "Tips for Monster Hunting", it also features locations in other parts of the Highlands including Glen Ord Distillery in Muir of Ord.
Kilted revellers in the Dores Inn at Dores on Loch Ness also appear.
VisitBritain worked with tourism bodies VisitInvernessLochNess and VisitScotland on the new campaign.
It marks a return to using the world-famous legendary monster to draw attention to the loch and its surrounding area.
A previous high-profile campaign steered clear of Nessie.
The drive in 2008 highlighted outstanding qualities that could earn Unesco World Heritage status for Loch Ness and the Great Glen - but made no mention of the monster.
Tourism expert Prof Terry Stevens, who was commissioned to help guide the status bid, said at the time that it was important to broaden knowledge of the area beyond the myth.
VisitBritain director of marketing Joss Croft said it was hoped the new tourism campaign would widen the area's appeal.
He said: "The Loch Ness and Inverness area is a fantastic destination to be enjoyed all year round.
"From exploring the majestic lochs and soaring highlands to soaking up the atmosphere of the cosy pubs and traditional inns, we want to inspire visitors to book a trip and come and visit right now so the economic benefits of tourism are spread throughout more of the year."