Budget 2016: Edinburgh and Inverness deals to be progressed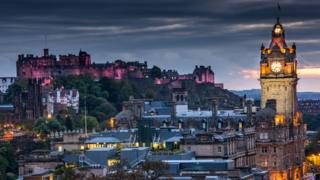 Chancellor George Osborne has said negotiations will be opened on City Region Deal funding for Edinburgh and south-east Scotland.
His announcement in the Budget has been welcomed by the six local authorities, including Edinburgh and Scottish Borders, behind a bid for £1bn.
The Budget document also said "good progress" was being made on a deal for Inverness and the Highlands.
Highland Council has sought up to £300m to support projects in the region.
Scottish Secretary David Mundell later told BBC Scotland that a further announcement on the Highlands deal was "imminent".
He said "good progress" was being made on "finalising" the funding.
'Greater powers'
The UK and Scottish governments would both contribute to the package, which aims to allow cities and regions to grow their economies.
Similar deals have previously been secured by Glasgow and jointly by Aberdeen and Aberdeenshire councils.
City of Edinburgh Council leader Andrew Burns said: ''We are delighted with the chancellor's pledge to develop a City Deal for our region and welcome the opportunity to continue our engagement with both the UK and Scottish governments.
"This commitment from Westminster is a step forward for our proposals to tackle inequality and accelerate substantial economic growth through investment in innovation, skills and infrastructure.
"We submitted our proposals in September 2015 and remain as determined as ever to negotiate greater fiscal powers for our region and funding towards strategic housing, transport and infrastructure to help the region to become the most connected, creative, inclusive and innovative place in Europe."
The Edinburgh and South-East Scotland City Region Deal bid aims to secure major funding to help better protect historic attractions in Scotland's capital, and also boost the wider area's overseas trade and opportunities for new businesses.
Those involved have calculated that an additional £3.2bn worth of private sector investment could be leveraged if the bid was successful.
'Missed opportunity'
Highland Council would use its funding for infrastructure projects and jobs creation.
The local authority and the MP for Inverness, Nairn, Badenoch and Strathspey, Drew Hendry, had expected confirmation of the funding.
Mr Hendry said: "I think it is a missed opportunity that it wasn't confirmed in the statement verbally that we are going to go ahead and what kind of deal we are going to get."
The SNP MP added that it was welcome that the Budget's Red Book stated progress was being made on a deal.
Highland Council has not commented.
The region has already secured £3m of City Region Deal funding.
Mr Mundell confirmed this support during a meeting with Highland Council last year.
The local authority plans to use the money on improving the appearance of Inverness Museum and Art Gallery, upgrading the grounds of Inverness Castle and on creating a free public access wi-fi scheme for the city.