Signs on Lochinver to Stoer road warn of migrating toads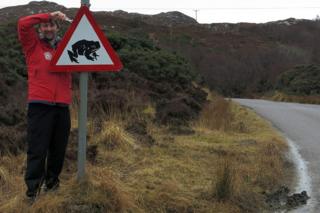 New warning signs have been erected on a road in the Highlands in an effort to improve migrating female toads' chances of survival.
Hundreds of the amphibians laden with eggs cross the B869 Lochinver-Stoer road in Sutherland to reach lochs and lochans.
The toads are usually on the move for about three weeks from mid-March.
Highland Council countryside ranger Andy Summers has been helping Assynt Field Club put up the signs.
It is hoped the warnings will encourage motorists to safely avoid squashing the amphibians.