Flood training held on River Ness in Inverness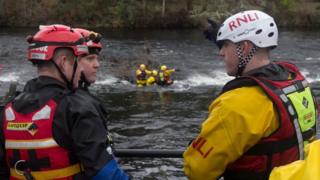 The RNLI, Maritime and Coastguard Agency, Police Scotland and Scottish Fire and Rescue Service held flood rescue training at the weekend.
The RNLI Flood Rescue Team in Scotland regularly trains to maintain a state of readiness so it can respond to flooding anywhere in Scotland within six hours.
Sunday's exercise was focused on the Ness Islands on the River Ness in Inverness.
The aim was to improve the running of the flood rescue service.
Roy Giles, volunteer lifeboat crew in Anstruther and water incident manager for the RNLI in Scotland, was one of the main organisers.
He said: "We're really pleased we were able to put this exercise together.
"It has been a great opportunity for all the emergency services to work together.
"It means that in future we'll be able to deploy the right people and kit with proper training exactly where they are needed and help anyone affected by flooding."
Sgt Graham Brown, of Police Scotland, said recent flooding in Aberdeenshire had highlighted the need to be able to respond to incidents quickly.
He said: "It is important to exercise our response to such weather-related incidents across the country so that officers and partner agencies are all prepared for any real incidents that occur in the future.
"We are pleased to have taken part in this exercise, working collaboratively with our partners to highlight what action each organisation would take to ensure public safety."