Scottish university students given winter skills training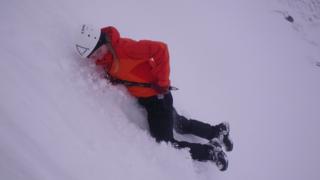 A new scheme has given members of Scottish university mountaineering clubs training in lifesaving winter skills.
The Mountaineering Council of Scotland ( MCofS)said students were often regarded as a "high risk" group in terms of winter walking and climbing.
The council teamed up with the charity St John Scotland to offer the training.
Sixty students have completed the winter skills instruction so far.
St Andrews and Edinburgh university students have been among those to take up the offer of the free courses.
The training has been led by qualified mountaineering instructor Nick Carter.
He said: "This is a great idea from St John Scotland and something which is very much needed.
"In many university clubs even the senior members may not have the experience or perhaps the confidence to instruct beginners."
Heather Morning, MCofS mountain safety advisor, said: "This is a fantastic opportunity for university club members to obtain qualified instruction during their winter meets, at no cost to the club or students, with the aim of enhancing their awareness of the skills and knowledge which will help them become more self-reliant."