Catastrophic brake failure before fatal crash on A9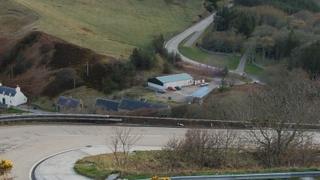 A driver died after a "sudden, multiple and catastrophic" failure of his lorry's braking system, a sheriff has said after a fatal accident inquiry.
William Cormack, 41, died after his lorry crashed on the A9 near the Berriedale Braes in Caithness on 18 September 2014.
Sheriff Andrew Berry said the braking system failed at a critical point on the descent of the braes.
Mr Cormack, who was also known as Bruce, was from Durran near Thurso.
Other motorists went to the lorry driver's aid after the late night accident, but he died shortly after midnight on 19 September.
'Rolled over'
In his determination, the sheriff said Mr Cormack did not use what is known as an "escape lane".
The lane is an area where lorry drivers can come off the A9 at Berriedale Braes safely when having braking problems.
Sheriff Berry said: "That Mr Cormack did not use the escape lane a short distance before the vehicle rolled over indicates that there was a sudden, multiple and catastrophic failure in the vehicle's brakes whereby the bend could not safely be negotiated.
"Had the failure in the vehicle's brakes happened at a more forgiving location, it might well be that the consequences of the accident would have been greatly reduced.
"Indeed there might not have been an accident at all."
Sheriff Berry said: "It can readily be said that the descent and then ascent of the Berriedale Braes, whether travelling north or south, marks a truly exceptional stretch of roadway requiring great care to be exercised by any driver of any vehicle.
"It is not for the faint hearted. I think that it can readily be said that this stretch of road is, of itself, inherently dangerous."
He concluded that there were no reasonable precautions which may have prevented Mr Cormack's death.
The incident delayed the delivery of Scottish independence referendum vote ballot boxes from the far north to a count in Dingwall.
Some ballot boxes from polling places in the far north were taken to Dingwall by a long diversion via Melvich.