Backing for more Skye to Glasgow flights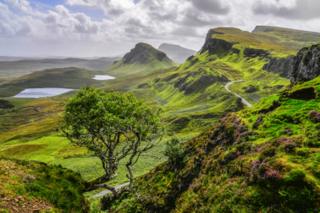 Businesses in Skye want more flights to be made available between the island and central Scotland, according to the results of a new study.
Loganair ran services from Ashaig Airfield, near Broadford, to Glasgow until 1988. Loch Lomond Seaplanes still uses the strip for scheduled flights.
The research commissioned by Highlands and Islands Enterprise involved almost 200 businesses and other organisations.
More than 70% said they would use new air services at least quarterly.
They said regular services to Glasgow Airport would allow them to also make connections to Birmingham and London.
Other results of the study included that 85% of businesses in the Skye area travel regularly to the central Scotland, and anticipated a wide range of benefits from an air service.
Also, 94% of those who took part in the survey believed the flights would bring positive effects in terms of access to markets, customers and clients.
'Important evidence'
Stuart MacPherson, of Highlands and Islands Enterprise (HIE), said: "Air services to and from small rural airports play a key role in supporting economic and community growth.
"The report provides important evidence to support the case that reintroducing Skye air services would contribute to Scotland's Economic Strategy by supporting greater levels of internationalisation, investment, innovation, and inclusive growth.
"The report concludes that a re-introduced air service would bring significant economic and social benefits to Skye and surrounding areas, and would help to address some of the major constraints identified by the area's businesses."
Mr MacPherson said the study would be used to inform a business case for the reintroduction of a regular air service which is being developed by HIE, transport organisation Hitrans and Highland Council.
Flash Gordon
Highland councillor for Skye, Drew Millar, said: "The council is working with HIE and Hitrans to press the case for improved air links to and from the Highlands.
"This study confirms the view of existing businesses on Skye and many others that an air service would enable improved connectivity and greater access to markets, overseas customers and the overall economic well-being of this fragile part of Scotland."
The strip was built in the 1970s by Army engineers, and appears briefly in a scene from the 1980 film Flash Gordon, which starred Sam J Jones, Max von Sydow, Timothy Dalton and Brian Blessed.
The air strip remains available to the emergency services and scheduled commercial flights.
Loch Lomond Seaplanes, flies up 200 flights per month between March and October, and carries about 10,000 passengers a year. It regularly operates scheduled flights from central Scotland to Skye.