Man jailed for racial abuse and causing damage to home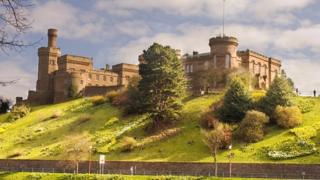 A man who threatened to murder two restaurant workers before going on to break into a house and cause £10,000-worth of damage has been jailed.
Charles Maclennan, 32, of Tain, racially abused and threatened staff at Inverness' Ash Bar and Restaurant.
He later broke into the home of a recently widowed doctor and damaged windows, antiques and poured red wine on walls, a floor and couch.
He was jailed for three years and four months at Inverness Sheriff Court.
During the incident in the restaurant, Maclennan was told that the police had been called.
'No recollection'
The court heard that his reply to the staff was: "I'll come back tomorrow. The police are not here. I'm Charlie from Tain."
The offences happened on 29 and 30 January.
Maclennan admitted on indictment charges of theft by housebreaking, malicious damage and a racially aggravated threat to murder two workers.
His solicitor Aileen MacInnes told the court: "He had consumed a considerable amount of alcohol and legal highs and has no clear recollection of what happened that day."
"He recognises the truly appalling nature of his behaviour and acknowledged there was no sense in it. His only explanation is he had truly hit the self destruct button."