Rural surgery 'an attractive and viable career choice'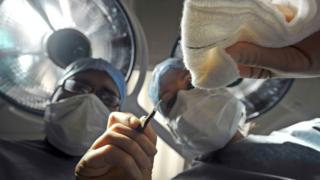 Surgeons should be encouraged to regard working in rural hospitals as a "viable career choice", the Royal College of Surgeons of Edinburgh has said.
In a new report, RCSEd said many surgeons considered appoints outside central Scotland as "remote".
This has caused recruitment and retention problems at rural hospitals, including sites in the Western and Northern Isles, Wick and Oban.
RCSEd said trainees and trainers should have a higher regard for rural posts.
The organisation said there was a Scotland-wide problem with recruitment, and vacant consultant jobs across all specialities had risen from 143 in September 2012 to 345 in September last year.
But in its new report, Standards informing delivery of rural surgery, it has warned that the problem was most acute in rural and remote areas.
'Attractive choice'
To boost recruitment, RCSEd has suggested advertising the lifestyle advantages of such areas to potential recruits as early as medical school, and to target jobs at young physicians who grew up in remote communities.
It also said a four or six-month rotation to a rural surgical unit should be offered to all general surgical trainees in Scotland.
The report added: "This approach has not met with long-term success previously, but trainees and trainers need to be made aware that rural surgery is an attractive and viable career choice, and that it has full support from the Royal College of Surgeons of Edinburgh."
Michael Lavelle-Jones, president of the RCSEd, said the delivery of health care in remote and rural areas would also have to change.
He said: "It is quite clear that 'one size does not fit all' when it comes to service delivery in these challenging environments and that the needs and provision will vary depending upon the surgical specialty and the region."