Inverness Airport announces £900,000 expansion plan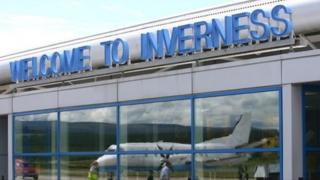 The operators of Inverness Airport have announced plans for a £900,000 expansion.
The development will almost double the size of the departure lounge and create a new arrivals hall for international passengers.
The airport's security search area is also being refurbished and expanded.
Hial said the airport had seen a steady increase in flights to and from other European cities and wanted to maintain that growth.
Work on the security area is already under way and due to be completed in March, while the departure lounge and international arrivals hall are due to open in May.
Hial said passenger numbers for Inverness Airport were up by 8% in 2015.
'Sustained growth'
British Airways is to launch a new daily service from the airport to London Heathrow and KLM will be flying daily to Amsterdam Schiphol from May.
Airline Easyjet is also adding new services to London Luton and Gatwick this summer.
Graeme Bell, Inverness Airport general manager, said: "Inverness Airport has enjoyed a sustained period of growth during 2015 and our forecasts show that 2016 could well be our busiest year ever.
"This is a direct result of our success in securing new services such as Amsterdam and London Heathrow, and our efforts to grow existing hub routes such as London Gatwick and Manchester.
"We are delighted that Inverness Airport is continuing to grow but acutely aware that the terminal is already congested at peak times. This investment will help ensure that passengers have more space to relax in a much larger departure lounge offering new catering and shopping facilities."
Business Minister and MSP for Inverness and Nairn, Fergus Ewing, was at Inverness Airport for the announcement.